Cyber Safety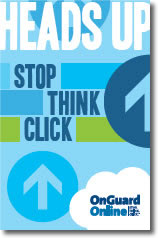 Heads Up: Stop. Think. Click. Learn why and how to stay safe online. Being online—connected through some sort of device is how you live your life. And as you spend more of your time there, it can be easy to over-share, embarrass yourself, mess up your computer and possibly get messages from creepy people. The truth is there are some risks involved in socializing, playing and communicating online.
Asking a few key questions first can help you protect yourself, your friends and your computer. Flip through and find more things to stop and think about before you click. Heads Up: Stop. Think. Click

Never give any personal information to anyone you meet online. That means first or last names, phone numbers (they can be used to track down your home), passwords, birth dates or years, or credit card information.


Never meet up with anyone you don't already know. Don't tell anyone your schedule; don't say where you'll be hanging out. No party announcements. People are often not who they say they are. It's true: 1 in 5 kids will be sexually solicited online.


Don't fill out any "fun" questionnaires that are forwarded to you, even if they're from your friends. Remember, you're in a world where everything can get forwarded. All those personal things about you could land in the hands of someone who could use them to harm you.


Make sure you know everyone on your buddy list. If you haven't met the people face-to-face, they may not be who they pretend to be. Also, Instant Messaging strangers is an invasion of their privacy.


You do not have to answer emails or IMs from people you don't know. As a matter of fact, you shouldn't. Who knows who they are? Even if they say they're "David's friend," David could be a lucky guess. "Kids" you meet in chat rooms may actually be creepy adults.


There's no such thing as "private" on the Internet. You may think so, but it's not true. People can find anything they want — and keep what you post — forever.


Be careful about posting pictures of yourself. (If you must, don't post sexy ones or ones showing behavior you wouldn't want your mom, teacher, boss, or potential college advisor to see). Just because an older sibling has posted snaps on a site doesn't make it a smart or a safe idea. Pictures with identifiers like where you go to school can be shopping lists for online predators and other creeps.


Don't send pictures of other people. Forwarding an embarrassing picture of someone else is a form of bullying. How would you like it if someone did that to you?


Don't download content without your parents' permission. Many sites have spyware that will damage your computer. Other sites have really inappropriate content. Your parents can check your computer's URL history, so you can't hide where you've been.


Never share your password with anyone but your parents.


Resources
PISD Acceptable Use Guidelines
Tips to Create and Manage Strong Passwords

Tips for Safe Video Sharing

NetSmartz.org - Internet safety resources from the National Center for Missing and Exploited Children.